Synopsis
When plans fall through, a six-year-old is faced with a big responsibility on a hot Texas day.
Details
DIRECTOR /

Logan George & Celine Held

COUNTRY /

USA

CATEGORIES /

Short film

RUNTIME /

12:00

YEAR /

2018
Website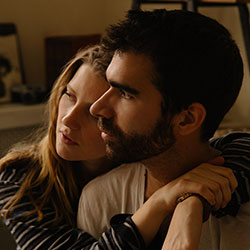 Directors Biography

Logan George & Celine Held
Celine Held & Logan George are a co-writer / director duo based in Brooklyn, New York. Their
work has premiered in competition at Festival de Cannes, Sundance Film Festival, Telluride
Film Festival, and at South by Southwest. They were named one of Filmmaker Magazine's '25
New Faces of Independent Film' in 2017.
Cast
Caroline : Caroline Falk
The mother : Celine Held
Tam Jackson : Natalie
Brooks Falk : Benny
Sally Falk : Sally

Credits
Written and Directed by : Logan George & Celine Held
Produced by : Kara Durrett
Executive Producers: Tom Large & Kristian Brodie
Director of Photography: Lowell A. Meyer