Synopsis
How early is too early to be in love?
Hei-Ji Wong, the son of the corner store's owner, is a chubby little boy who would do nothing but play games on Switch. However, whenever he sees his dream girl Mimi, he would try to act like he is cool in order to impress her.
When Hei-Ji finds out that Mimi hands a love letter to Sam, a charming and handsome guy, he couldn't help but feel heartbroken and shattered.
Should he just let her go? Or should he fight for her?
On the eve of Mid-Autumn Festival, Hei-Ji finally overcomes all the difficulties and fulfils Mimi's wish. He even gathers up his courage and asks about the love letter . . .
Details
DIRECTOR /

Jomin Chan Po-man

COUNTRY /

Hong Kong

CATEGORIES /

Short film

RUNTIME /

14:00

YEAR /

2020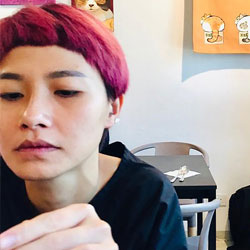 Directors Biography

Born and raised in Hong Kong, Jomin Chan graduated from The Hong Kong Academy for Performing Arts with a Bachelor (Hons) of Fine Arts in School of Film/TV, majoring in Producing & Production Management Dept.. She is a film production manager and has been involved in the production of a wide genre of films. First time being the director of a short film, she hopes that the film will touch your heart with a knowing smile.
Cast
Wong Hei-ji : Aaric Yim Sheung-chi
Mimi : Boggs Sarinna Hoiching
Sam : Kelvin Chan Kin-long
Ji's Mum : Luna Shaw Mei-kwan
Credits
Written by : Jomin Chan Po-man
Written by : Jomin Chan Po-man, Kung Siu-ping
Producer : Jomin Chan Po-man, Elson Chan Tsz-yan, Wylie Chan Wai-yee, Sam Ip Siu-chung, Una Wang Oi-mai