Synopsis
A small port town in the Japanese countryside:
Saori, a hairdresser, dreams of big city life in Tokyo.
Yokochin, a reluctant rapper, searches for his voice.
Kyoko, a femme fatale DJ, is obsessed with her 60's radio show.
One fateful night will change their lives.
Details
DIRECTOR /

Yoshi Kuremura

COUNTRY /

Japan

CATEGORIES /

Short film

RUNTIME /

14:56

YEAR /

2021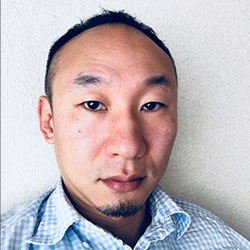 Directors Biography

Osaka, Japan native, Yoshi Kuremura was raised to be a natural storyteller. Surrounded by a family of 15 talkative aunts and uncles, and 36 cousins, he absorbed their tales, and was inspired to write Manga comics for his elementary school friends.
His interest in filmmaking bloomed at an early age when started making short movies in high school. He kept developing those skills through the mentoring of documentary producers, John Montoya in San Francisco, California, and Taku Nishimae ("Fishing with John") in New York city.
Yoshi has applied these experiences through his roles as Production and Assistant Director in various film projects within the Japanese, and international markets. His unique perspective as a director is influenced by his character-acting experiences as well.
Cast
"Yokochin" : Takuma Fujie
"Kyoko" : Kaoru Hirata
"Saori" : Yayoi Sanmi
"Mr. Manager" : Bob Suzuki
Credits
Directed and written by : Yoshi Kuremura
Producer : Shoji Nagata