Synopsis
It's 6:00 AM. Jérémy and Graziella go on a journey through the memories of a very important person to them: Yéyé.
An adventure that exceeds the limits of time, between memory, imagination and reality.
Details
DIRECTOR /

Roxanne Paisan

COUNTRY /

Spain

CATEGORIES /

Shortfilm

RUNTIME /

18:30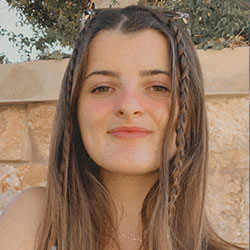 Directors Biography

Cinéma as always been my passion. I'm 23 years old and I recently graduated from a Higher National Diploma (HND) in Audiovisual Production, in Palma de Mallorca. Yéyé is my second short film, co-produced by CEF Produccions. My first short Playboys was a student work, and now, I'm making my second step into this industry with my new film Yéyé.
Facebook
Instagram
Cast
Key cast: Marc Bonnin
Key cast: Graziella Paisan

Credits
Written and Directed by : Roxanne Paisan
Producer : Roxanne Paisan & CEF Produccions