Synopsis
An experimental short film exploring the chaos in an athlete's mind and his struggle to subdue it.
Details
DIRECTOR /

Sofia Kyritsis

COUNTRY /

Canada

CATEGORIES /

Documentary

RUNTIME /

5:00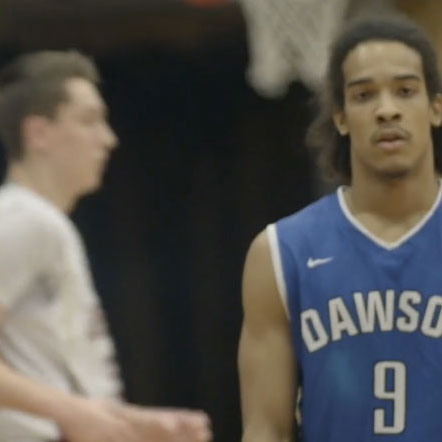 Exclusive "EMF" interview
Sofia Kyritsis, Film Director of Fadeway
Who are you? Sofia Kyritsis, emerging filmmaker?
I completed my MBA and Bachelor in International Business from Quinnipiac University, in Connecticut, US, while playing basketball on a NCAA scholarship. After abandoning my basketball career because of a debilitating injury, I returned to Montreal and sought alternative healing for my rare and irreversible injury. Because Qi Gong, Tai chi and meditation helped me reconnect to my center, I decided to implement these practices when I was asked to help coach a group of boys' basketball high school team. We went undefeated for the entire season and became provincial champions. I soon realized that I was on to something.
This year in prep school (Cegep), three of my star players have fallen back in their old patterns and their team is on a losing streak. Building on the bond I created with them during the 2014 Championship, I returned to coaching. This journey is the subject of my compelling documentary film MILLENNIAL BLUES, which explores my unorthodox approach with a group of young men who don't adhere to traditional coaching techniques anymore. After completing filmmaking at NYFA in NYC, I realized that this might be my last contribution to basketball. In the process, I want to capture these young men's journey and the obstacles they need to overcome to reach their dream.
What is Fadeaway about?
FADEAWAY is an experimental short film exploring the chaos in an athlete's mind and his struggle to subdue it.
To produce FADEAWAY, I used the footage of my feature length documentary "MILLENNIAL BLUES" that is in production as we speak.
Synopsis:
MILLENNIAL BLUES chronicles the journey of a young men's basketball team mired in losing streak and crippled with indiscipline as they undergo a radical shift in training with retired NCAA player Sofia Kyritsis.
This team of millennials does not respond well to the old authoritative teaching tactics, so Sofia's intuition is to nurture them and guide them to find their centre. Following the efforts of three star players, Nudy, Judy and Jerry, we witness their everyday progress and setbacks as they pursue a shared goal: getting an NCAA scholarship and a chance at a professional basketball career.
While shifting the paradigm of the coach-player relationship, these new teachings affects more than their game. MILLENNIAL BLUES captures an entire season in the life of boys becoming men, and in the process reveals a maturing that will last them a lifetime.
An anecdote about your filming?
One of the thing that is surprising is that the players are sometimes very self-conscious about the filming and some other times they are oblivious to the point of not seeing the cameraman. They have the impression the film is something not too serious, but they want to become better players, so they are taking this whole adventure as part of their training.
It was a premiere for Fadeaway in France, what does it represent for you?
I've been living in the "basketball" bubble for more than a year while filming this project, so to get a recognition and exposure for the short film at your festival is very exciting. It suddenly made the potential of the film suddenly real and it's increased my motivation to make a great film.
What represent Excuse My French "Best Original Score" for you?
It's a great honor to receive this award. The score has a big influence on the mood of the story, and I was very lucky to work with a great sound editor, Luc Raymond. Because music is so important to me, for training and meditating, I wanted to make sure it was an important contributor to the film's mood and impact.
What is next for you? 
In production and entering post-production for my feature length documentary in a couple of months. In post-production on a short film on a French baker in Montreal who prepares organically his own flour and how the industry is producing nutrition less white flour and bread, also known as poison to him. Also in development on other documentary and fiction projects simultaneoulsy.