Synopsis
Andrea is home alone and her best friend Dona comes for a sleepover, determined to go to the party where her crush Viktor will be at. In the club, they see Viktor with another girl and Andrea's brother. When Dona pushes Andrea to find out from her brother who the girl is, the persuasion puts their friendship to the test.
Details
DIRECTOR /

Anastasija Lazarova Pilling

COUNTRY /

Republic of North Macedonia

CATEGORIES /

Short film

RUNTIME /

13:00

YEAR /

2018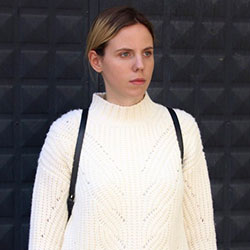 Directors Biography

Anastasija Lazarova Pilling is born in Skopje, North Macedonia. She graduated at the University of Audiovisual Arts ESRA in Skopje. Her graduation short film "Raspberry" was supported by the North Macedonia Film Agency. The film premiered at the ICFF "Manaki Brothers" in Bitola. She is currently in pre-production for her new documentary short film, which also recieved a grant from the Film Agency in North Macedonia.
Cast
Andrea : Ivana Pavlakovikj
Dona : Sara Klimoska
Аndrea's Mother : Amernis Nokshiqi
Аndrea's Brother : Stefan Spasov
Viktor : Bojan Kirkovski
Credits
Written and Directed by : Аnastasija Lazarova Pilling
Producer : Nikola Madic