Synopsis
t's the beginning of the school vacations in this beautiful summer of 1994.
Niklas, Tim and Alex decide to build a cabin in the forest.
They discover a huge abandoned house.
In there, they found colored candies cleverly laid on the ground.
They draw a path that leads to a door opening onto a staircase leading to the cellar.
The boys decide to return later with a flashlight.
On the way, they discover their bikes buried under a mountain of candy!
Right behind them appears an extremely ugly witch.
Details
DIRECTORS /

Basti Schwarz & Oliver Schwarz

COUNTRY /

Germany

CATEGORIES /

Short film

RUNTIME /

14:53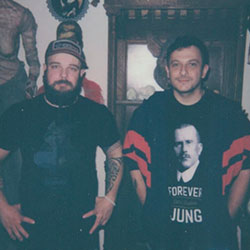 Directors Biography

Basti Schwarz & Oliver Schwarz
Basti Schwarz was born 1984 in Wittenberg, Germany. He is actor, writer, producer and director. He worked also as an book author. He living and worked in Saxony. He is the older brother of Make up Artist and Model Maker Oliver Schwarz (Birth, Sommer' 94) with whom he made several films and other projects
Oliver Schwarz was born 1989 in Wittenberg, Germany and lives in Mecklenburg Western Pomerania, Germany. He is an Make-up Artist, Stage Builder, Model Maker, Musician, Writer, Producer, Actor and Director. His Firm Logo is "Schwarz FX". His work can be seen in a number of independent films (Birth, Sommer ' 94, Born Dead 2, Dark Dayz).
Cast
"Key Cast" : Leopold Sewerin
"Key Cast" : Jasper Jeske
"Key Cast" : Jonas Quanter
Credits
Directed & written by :  Basti Schwarz & Oliver Schwarz
Producer : Matthias Karstädt