Synopsis
'This is the last seat to get back to normal world.'
Jeanne, finally recognized that she had to survive from the fierce battle and left this mad world.
When she recalled what happened before she died in the normal world, her 'own' decision emerged. Nothing is better than she could use 'this' body to travel between two worlds.
what she needs to do is to suffer from the misery and capture 'this' body.
Details
DIRECTOR /

JACK TONG

COUNTRY /

Hong Kong

CATEGORIES /

Short film

RUNTIME /

5:00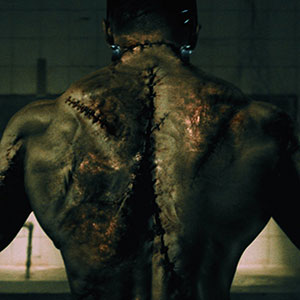 Exclusive "EMF" interview
Jack Tong, Film Director of Zackman
Who are you?
Bonjour! I am Jack. I am working with Netflix project recently. I usually take place in concept design and visual effects in films and broadcast programmes in past few years. I begin to develop my own individual films in recent years.
when I was young, I liked the fascinating visuals in the industry very much. Therefore, I started to work in my first company, Imagi Animation Studios as a 3D animator and joined the project of "Astro Boy". Then, I joined Sola Digital Arts and worked on "Starship Troopers:Invasion" as production designer.
When I was getting more and more close to films in my work, I discovered that the more important part of film is the thinking inspired by them. Then, it inspires me to be a director and tell things and discuss things to the society and the world.
How did the project begin?
During my working days, I was attracted by the avant-garde hypothesis and they led me think deeply about the issues. For instance, "Matrix" makes me think about the identity of human. "Dark city" makes me have a new perspective to time. As a result, I also want to do something and lead the audience and the public to think. However, I could not achieve my aspiration in my jobs. The productions that I involved mostly was just eyes candy and I did not satisfy with them. Moreover, special genres of films like detective, sci-fi, mystery like was rarely founded in China and Hong Kong. Eschatology is seldom talked about in films. So, I quitted my job and started my project, Zackman.
What is Zackman about?
Someone in the later century want to define the meaning of the will. Then, he finds limbs from people who are superior in different area with special abilities and joins the parts to form one complete body. He wants to see the five wills in five limbs fighting for one body and results an evolved species. A couple incidentally fells in the experiment. It arouses the interest of the man to know what will happen when the couple really join together in one body forever. The man put five wills in a body and let them to fight for the only body. 
It was a premiere for Zackman in France, what does it represent?
Thanks for the selection for Zackman to be screened in France. I hope it can be a good chance to do culture sharing with French audience through films. It is also a great chance for me to engage in the European film culture. In my first short film – "Zackman". It represents the thinking that there is always a chance for people to reborn. No matter in what situation, even if you are dead like the main character in Zackman, you can reborn and break through your limit in another world if you keen to catch the chance.
An anecdote about your filming?
One interesting thing in my filming is about the custom of the characters. Firstly, I designed the customs only based on the visual needs. When the custom had been made and dressed by the characters, it was difficult for them to do any movements since the customs were too tight and heavy for them. After some adjustments and cooperation with the custom designer, the characters finally could do acting with movements. Although the performance of character seems not nature due to the restrictions from the customs, I think it creates a unique image to the character. Those strange movements can even deepen the characteristics of the them.
What is next for Jack Tong?
In fact, I am not satisfied enough for this project because the resource for the project is not enough for me to work out a perfect production for the story. Moreover, I plan that the next story should be longer and more familiar to the general public. I want to focus on the story arc and bring a world with comedy and sci-fiction to the audience. Thanks for your attention. Merci.