Synopsis
After a drunken dispute with her boyfriend, Josie barges into her neighbours apartment. Amidst a time of isolation and fear, Mike learns of the severity of Josie's situation after sharing an evening of connection.
What makes our film special?
– A female driven project, with a predominantly female-identifying crew
– A timely piece spreading awareness on a societal issue, domestic abuse and gender-based violence
– Donated a portion of its funds to a Women's Center, assisting our community and those recovering from domestic violence
Details
DIRECTOR /

Jenny Lee-Gilmore

COUNTRY /

Canada

CATEGORIES /

Short film

RUNTIME /

13:11
Instagram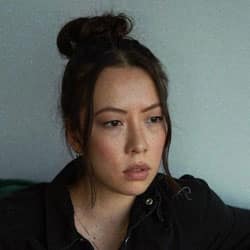 Directors Biography

Jenny Lee-Gilmore is a filmmaker and actor based in Vancouver, BC. Born in England, Jenny moved to Vancouver at age 13. She completed the Bachelor of Fine Arts in Film Production at the University of British Columbia in 2019m taking additional classes in Asian Canadian studies and gender studies. She wrote and directed "Breakaway" during her final year at UBC. Her debut short film has since played in numerous festivals across North America and selected as one of the Top 9 films for the "CBC Short Film Face Off." Currently developing her first series and feature film, Jenny hopes to continue telling compelling stories through film focusing on female driven narratives and working both in front of and behind the camera.
Cast
"Josie" : France Maurice
"Mike" : Jonathan Shaboo
Credits
Directed by : Jenny Lee-Gilmore
Written by : France Maurice
Producer : France Maurice