Synopsis
Surfing on boards made from refrigerator doors and molded with cheese graters, a group of misfits dodge local authorities to create an underground surf culture in Cuba, hoping to catch something much bigger than the perfect wave.
Details
DIRECTOR /

David Alejandro Ospina

COUNTRY /

Colombia

CATEGORIES /

Documentary

RUNTIME /

8:54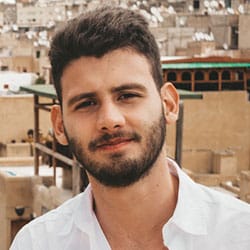 Directors Biography

David is a 29-year-old Colombian documentary filmmaker that believes in the power of storytelling and creative communications to create authentic stories about travel whilst promoting sustainability to raise awareness of major social and environmental issues. As the founder of Tornus, a creative and content studio based in Colombia, he works with tourism boards and brands on projects and stories that can educate, entertain and create opportunities for communities and broaden the perspectives of audiences.
Cast
"Key Cast": Ayax Borrero, Yaya Guerrero, Frank Gonzales
Credits
Directed by : David Alejandro Ospina
Written by : David Alejandro Ospina & Dagoberto Ospina
Producer : David Alejandro Ospina, Dagoberto Ospina, Miguel Merino, Gabor Harrach